20 September 2021
Webinar: "From Monitoring to Control of the Plastic Injection Process: a step towards Innovation"
On October 7, from 2:30 to 4:00 pm, the Webinar "From Monitoring to Control of the Plastic Injection Process: a step towards innovation" will take place.
This webinar jointly organized by PIEP and Kistler is aimed at all those concerned about the quality of their products in the injection of plastic components, where it is required to control phenomena such as dimensional, visual, fragile, and visible joint lines, incomplete parts, among many other defects in injected parts.
Key issues related to processing optimization, monitoring, and control will be addressed, in Portuguese and English, through case studies presented by PIEP and using Kistler industrial equipment. Associated with the case studies, a comparison of experimental results will also be carried out with the reproduction of the processes using simulation software, to predict the behavior of the polymer melt and the formation of defects, as a way of predicting and controlling the process and integration data, highlighted in Industry 4.0.
The event will feature speakers from the area of Advanced Manufacturing Processes – Polymers of PIEP, and the participation of Kistler's responsible at an international level in the area of plastic processes, Drº. Robert Vaculik, graduated from the University of RWTH in Aachen, in Mechanical Engineering and with a specialty and Ph.D. in plastics processing, with several articles written.
Registration in this webinar is free and it can be made online.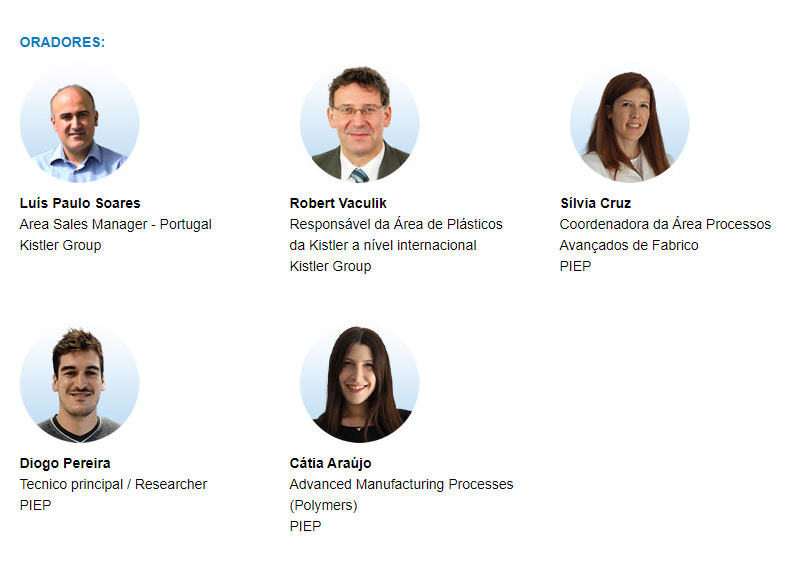 Program
KISTLER
Introduction to the Kistler Group
General Concepts on Interpretation of Pressure and Temperature Curves
Definition "Control Windows" for Plastic Process Optimization
CURRENT Advanced Processes in Monitoring and Control of Plastic Processes
FUTURE Processes in the Monitoring and Control of Plastic Processes
PIEP
PIEP presentation
Monitoring of the Injection Moulding Process, and Correlation with a Speed Camera
Correlation between Results Obtained with Computational Models
This session will be recorded. Sign up to receive your recording via email after the webinar.